Well365 Thrive: Employee Wellness Made Simple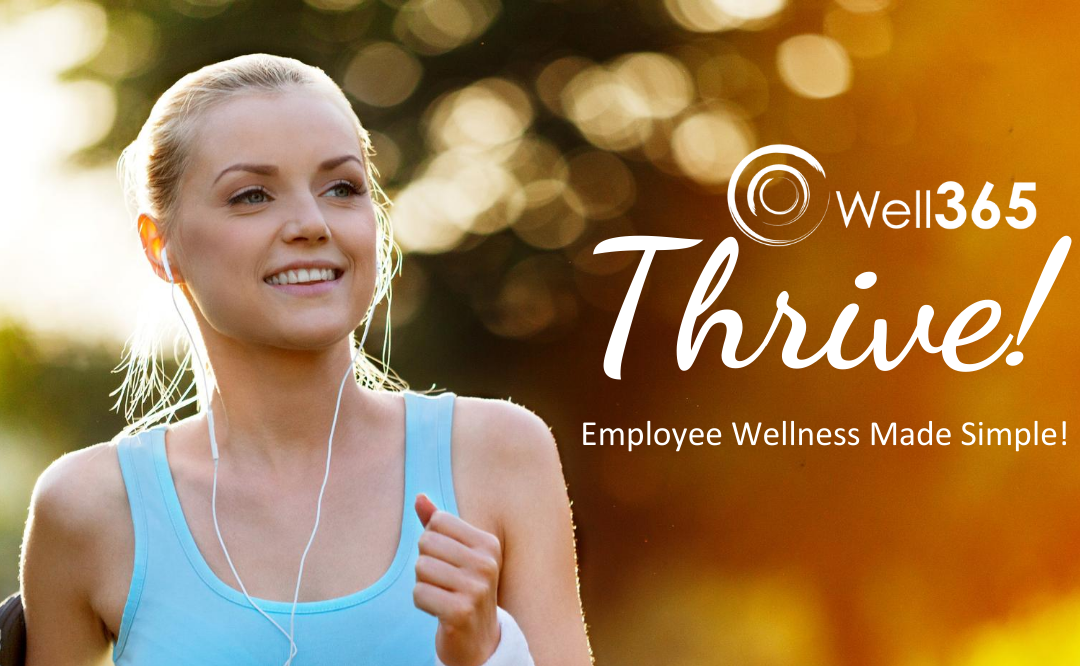 Well365 Thrive is a monthly wellness program designed to assist business owners and human resource directors with the opportunity to incorporate employee wellness at an affordable price.
As we all know, employee wellness is essential for an organization to survive and thrive!
Employee wellness impacts the culture of the workplace, its resources as well as its productivity. The health of the employees, how they feel both mentally and physically, goes a long way toward guaranteeing the growth, stability, strength, and sustainability of an organization.
Employees are the biggest asset for any company and employee well-being is a great investment! According to studies, employees are more likely to continue a job and give their best performance when they are in good health.
The benefits of an employee wellness program include:
It attracts talented workers:  Having an employee wellness program enhances your employer brand and makes it easier for you to attract and hire top talent.  Candidates are more likely to choose an employer who offers an employee wellness program.

It reduces absenteeism significantly:  Focusing on prevention by promoting preventative healthcare drastically decreases the number of sick days employees.

It enhances decision making and productivity of the employees:  Employees who are in good health perform 25% better than their less healthy peers. Considering that businesses lose trillions of dollars per year in lost productivity, that boost can make a huge difference in a company's bottom line. Research shows that eating unhealthy foods and failing to exercise can cut individual productivity by 50% or more.

It improves employee morale:  A quality employee wellness program should encompass aspects of physical, mental, and financial well-being. By offering both resources and education, employers help employees to become their best selves both in and out of the workplace.

There is a significant reduction in turnover:  Investing in employee wellness also builds loyalty among employees. Numerous studies have shown that employees who feel supported are both healthier and less likely to leave their employer.

A healthier workforce and environment in an organization:  A quality employee wellness program should encompass aspects of physical, mental, career, spiritual and financial well-being. By offering wellness initiatives, employers help employees to become their best selves both in and out of the workplace.
What you receive with the Well365 Thrive Program:
Monthly Wellness Challenges

Challenge worksheet

Sign up sheets

Tracking sheets

Education (PPT to include Voice Over Video Recording)

Monthly "Mastermind" meeting with Well365 CEO and/or team to discuss topic of the month (Engagement, Incentives, Outcomes-Based Wellness, ROI, Creating Wellness Committees and MORE)

Weekly Wellness Tips

Access to the Well365 Wellness Library
Why sign up
Convenience

Overall Value/Economical

Time saver/Efficiency

Implement on-site or work from home

Trusted resource (The Well365 team has over 75 years of combined experience to include RN's, Dietician, Exercise Specialists, Tobacco Cessation Specialist, Certified Health Coaches, Licensed Mental Health Counselor).
We love this from one of our clients,
"Our team at The Event Company had the opportunity to participate in a 4-week wellness created by Well365 and we learned so much! Not only did we have weekly goals and focuses designed by Trisha + her team, but those focuses carried over from one week and to the next. Those focuses are ones that many of us adopted throughout the challenge and are still a priority in our lives! The weekly challenges were easy to follow, allowed us to stretch and learn new habits. We're grateful to have such an incredible resource, like Well365, as a part of our team!"
Don't delay…sign up for the Well365 Thrive Membership TODAY!
The Well365 Thrive Progam is available on a month by month enrollment at $97 per month, or you can receive 2 months FREE when you sign up for 12 months at a one-time fee of $970.00.
To learn more: https://well365.vipmembervault.com/products/courses/view/1037233
If you have any questions, please reach out to the Well365 team at  info@corewell365.com
https://corewell365.com/wp-content/uploads/2021/07/cwthrive2.png
666
1080
Trisha Dohn, BS, MS, CWC
https://www.corewell365.com/wp-content/uploads/2021/07/Well365_4C_Logo.png
Trisha Dohn, BS, MS, CWC
2020-10-13 19:21:48
2021-07-26 19:24:11
Well365 Thrive: Employee Wellness Made Simple